How to operate the logistics fan
2020-04-17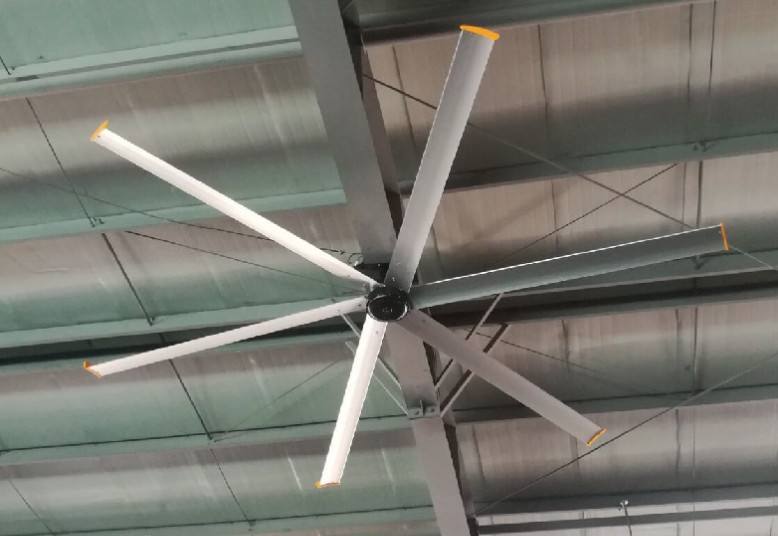 The working principle of the logistics large fan is to drive all-round airflow to rotate slowly through the fan blades, and continuously generate three-dimensional circulating air. The flow of the breeze accelerates the evaporation of human epidermal sweat and creates a breeze system, how does the logistics big fan work?
The rotation speed of the logistics large fan is 2-3 m/s and 80 revolutions, which is calculated according to the skin temperature of the human body. If the rotation speed is too fast, the air flow will be too strong, making people feel burning, and high wind speed will make people feel dizzy. Only through the organic combination of evaporation of the human epidermis and the speed of the breeze can people feel cool.
The logistics fan is an energy-saving workshop cooling device with very little power consumption. The large fan with a diameter of 7.3 meters can cover an area of about 1600 square meters, which is an option for large spaces. Its air volume can reach 13200 cubic meters per minute, covering an area of about 1600 square meters. The power of the logistics large fan is 1.5KW, running for 1 hour, and the electricity bill is only 1.5 yuan.
Logistics large fans are widely used, and in order to ensure large-scale normal operation, in addition to paying attention to normal monitoring and maintenance during normal use and operation, regular inspections are also required. After carrying out maintenance work, you can find and deal with some problems in time to prevent failures and ensure the normal operation of logistics fans.
MORE NEWS
Permanent magnet industrial large ceiling fan: What affects the air volume and logistics of large industrial ceiling fans
Super large industrial ceiling fans, due to their advantages of large air volume and low energy consumption, have gradually been promoted in fields such as workshops, warehouses, logistics, and commercial venues, making significant contributions to energy conservation and emission reduction in China. So, what are the factors that affect the airflow of super large industrial ceiling fans? Fan design, why do industrial ceiling fans with the same diameter cover different areas? This is all due to the design of industrial ceiling fans.
2020/08/07
Permanent magnet industrial large ceiling fan: the effect of logistics large fan
Logistics fans are also mainly used to cool the surrounding environment, in some hot air intensive environments. It needs to drive the surrounding airflow to lower the ambient temperature. It provides convenience for workers working in such a dense environment. The environment is a bit comfortable. Logistics large fans with good heat dissipation performance should have good heat dissipation performance. After continuous rotation for over an hour, both the casing of the logistics fan and the front motor of the motor have temperature, but both have temperature. It won't get hot. If you want to know if the logistics fan used meets the standards, you can use this device to test the temperature.
2020/08/04
Permanent magnet industrial large ceiling fan: factors affecting the speed of logistics large fan
Nowadays, many factories, workshops, and large supermarkets are equipped with logistics fans because they not only cool and dehumidify, but also promote air circulation. However, after long-term use, it will still have many problems, and slow speed is one of the common problems. So, what is the slow rotation of the logistics fan? What are the factors that affect speed? The following is the answer given by the permanent magnet industrial ceiling fan. Let's take a look together.
2020/07/28
Shenzhen Honyton Machinery Co., Ltd
Building A1, Xinjianxing Science and Technology Industrial Park, No. 3333 Guangqiao Avenue, Guangming New District, Shenzhen
QQ:1283464599(8:00-22:00 online) SKYPE:honytonfan (Online from 8:00 to 18:00 on weekdays)
---
Copyright © 2023 Shenzhen Honyton Machinery Co., Ltd All rights reserved.