Overall safety design of the fan
One of the two core demands of oversized ceiling fans is to use safely!
Safe fans must ensure that components do not break or fall, even in the event of an external impact!
Hengzheng GM's three independent safety chain designs ensure the safety of the use of oversized ceiling fans. It is the safest product in the industry.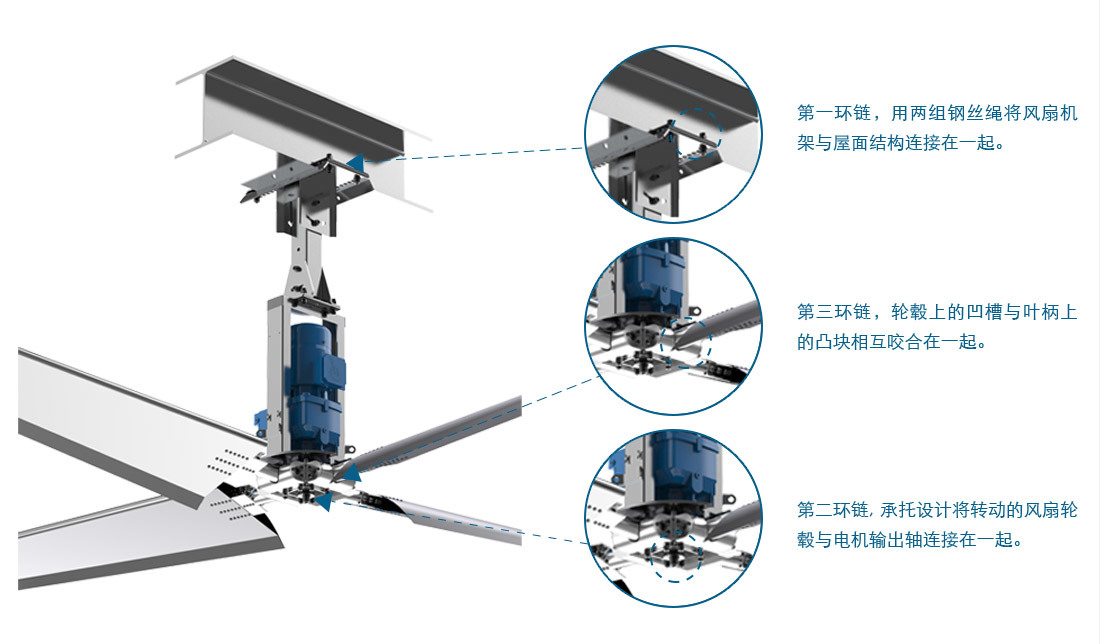 The experience of the installation and use of oversized ceiling fans in the past has proved that the vast majority of safety accidents are blade falls, and blade falls are mostly caused by the fracture of the connection between the blades and the hub. That is, the security design involving the third ring chain.
Hengzhengtong has designed two unique devices to ensure the connection safety of the third ring chain: the concave and convex bite connection and the collision buffer device.

Based on the above two unique safety devices, only the oversized ceiling fan (Hengtong series) in the industry that Hengzheng Tong promises to operate normally will not cause parts to fall due to external impact
Anti-falling device
Safety device description

Description on Anti-Falling Device

Hengtong series

HT Series

Hengkun series

HK Series

Hengyun series

HY Series

Hengxing series

HX Series

A

Additional wire rope winding to connect the rack to the roofing structure

Extra steel rope wrapping between I beam and the motor frame

■

■

■

■

B

Four sturdy wire ropes reduce fan shaking and connect the rack to the roof structure.

4 stabilization ropes connect the frame and ceiling

■

■

■

■

C

The stepped transmission key is matched with the bushing fastening nut to prevent the hub and blades from falling

the combination of the step driving key with a nut on the shaft sleeve prevent

falling of the hub in any case

■

■

■

D

Fall arrest hooks (4 pieces) hang the hub/blades in case the blades and hub fall

4 anti-falling hooks to hold the hub in case of the hub falling down

■

■

And

Irregularly shaped sliders in 4 groups of sliding holes along the outer edge of the hub limit the range of blade upturning

The sliders inserted in the cylinders to limit the range of up & down of the blades

■

■

■

F

The rubber sleeve lining the above slider absorbs the energy of the blade when it is hit by an external force and relieves the impact

The rubber cushions coated on the sliders can absorb the vibration energy

■

■

■

G

The concave and convex design of the petiole and the slider create a self-locking effect, ensuring that the petiole does not fall off the slide

The blade handle and the slider are fastened in a self-lock way

■

■

■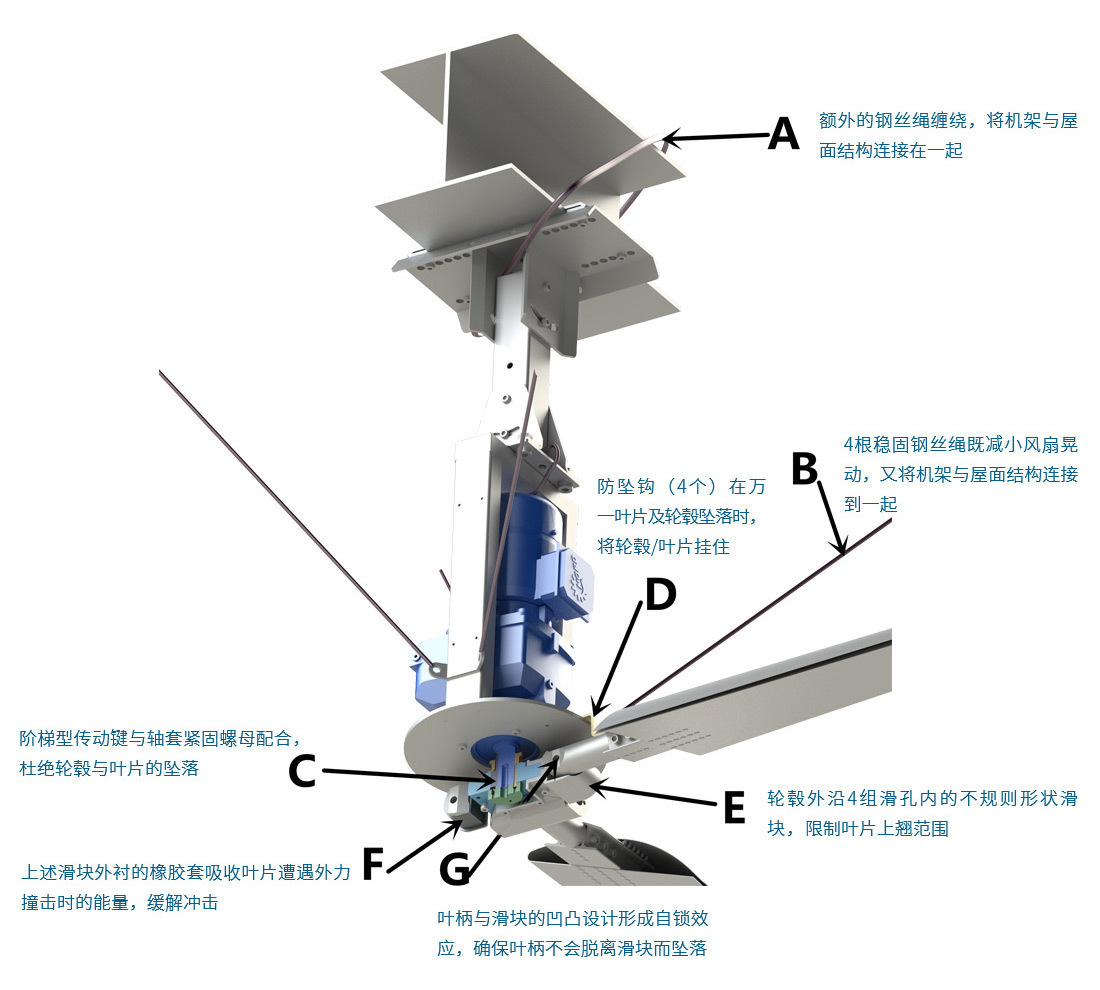 Shenzhen Honyton Machinery Co., Ltd
Building A1, Xinjianxing Science and Technology Industrial Park, No. 3333 Guangqiao Avenue, Guangming New District, Shenzhen
QQ:1283464599(8:00-22:00 online) SKYPE:honytonfan (Online from 8:00 to 18:00 on weekdays)
---
Copyright © 2023 Shenzhen Honyton Machinery Co., Ltd All rights reserved.